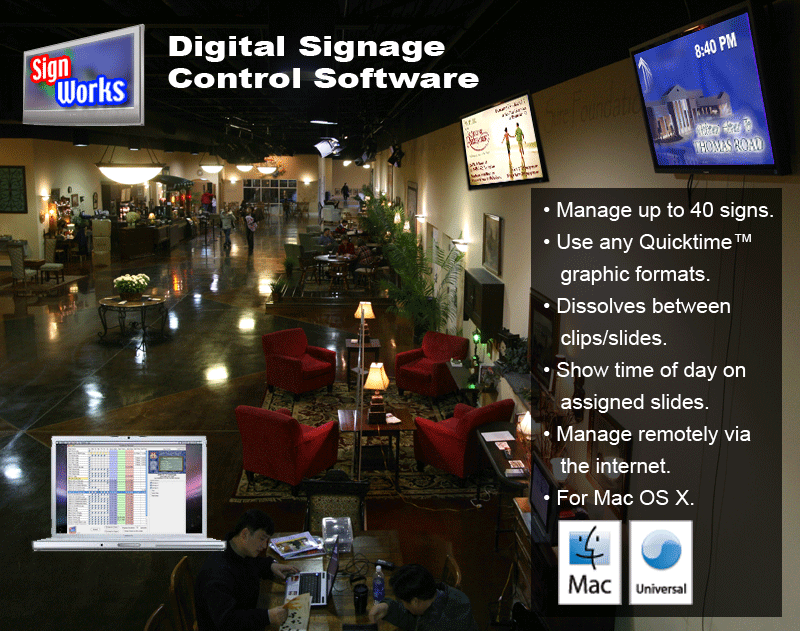 Software for Digital Signage / Message Board systems.
Perfect for churches, schools, hotels and corporate applications.

Latest Versions:
SignWorks v2.0.3 (released 1/7/15)
SignWorks Manager v2.0.0 (released 4/25/13)
SignWorks Set-up v1.0.4
Download the SignWorks Installer

Manage up to 40 signs with our SignWorks Manager software. Use any Quicktime compatible graphic and video files. SignWorks dissolves between slides, and you can put a realtime clock on slides in the loop. Each sign can have it's own schedule. SignWorks Manager handles the FTP upload of graphic files to the individual signs. Manage your signs from any location where you have internet access to your facilities! Signs can be in multiple facilities and be managed from a remote location.

Download a copy and try it for yourself! The demo version will allow you to operate 1 sign for testing purposes.

SignWorks Manager scheduling screen is shown above. Load your slides, assign what days of the week to run, what the Event Date, Start Date and End Date and even the Start and End Time if necessary. Then select which signs this slide should be displayed on. Slides are run in order by Event Date (no date means it will run at the beginning of the loop). You can set the duration each slide will display before it dissolves to the next slide. You can also optionally display a realtime clock on a slide, choosing the font, size and position on the slide.

SignWorks supports most Quicktime formats, including JPG, PICT, PNG and even video formats such as .MOV, .DV, etc. (video playback performance will depend on your processor speed and hard drive throughput).

Pricing: $149.95 includes SignWorks Manager, SignWorks Set-up and a 1 seat license of SignWorks for 1 sign.
Additional Signs (up to 40) are $24.95 each. Additional sign licenses can be added at any time.

Order from our online store


NOTE IF USING MAC OS 10.7 OR HIGHER ON SIGN COMPUTERS:
1 - Apple disabled FTP in Mac OS 10.7 and higher, so for SignWorks to be able to receive uploads from the Manager, this must be re-enabled. You will need to run the Terminal application and enter the following command:
sudo launchctl load -w /System/Library/LaunchDaemons/ftp.plist
You will then need to enter your administrator password.
This only needs to be done once per computer.

2 - If you are having problems with SignWorks as a Startup Item (when restarting the computer), instead of setting SignWorks as a startup item, use the SignWorks Launcher app. It is included in the Latest Installer). Set that as your Startup Item (instead of SignWorks). This waits for 15 seconds (to allow the booting process to finish) and then launch SignWorks. This should solve this issue.